Vice Chancellor GCU Lahore Message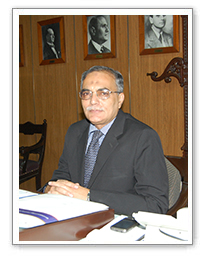 It gives me great pleasure to affiliate Times School of Engineering, Multan with Government College University Lahore, one of the oldest seats of learning in the Subcontinent. As a seat of higher learning we at GC University Lahore blend old traditions and modern educational standards to meet the ideals set by persons such as the first Principal Dr. G. W Leitner, the poet Philosopher, Dr. Muhammad Iqbal, the Nobel Laureates Prof. Abdul Salam and Dr. Hargobind Khorana and many others. Our motto "Courage to Know" has over the time span of a century and a half promoted the spirit of curiosity, inquiry and independent pursuit of knowledge among generations of students.
GCU is quality conscious institution that wishes to build its future by valuing knowledge and learning as well as for the cultural, social and economic benefit it offers. Guided by the vision we at GCU make sure that the aspects of quality teaching, high standards of research are not compromised.
At GCU we offer elite education, inspirational learning and research environment. We value our role as part of our academic community where we are constantly striving to develop and further enhance the services, facilities and opportunities extending them further by giving affiliations to institutions in selected disciplines who fulfil the criteria as laid down by QAA – HEC Pakistan. This year Higher Education Commission, Pakistan ranked GC University Lahore 2
nd
amongst the General (medium) category based on quality of teaching and research. The Pakistan Engineering Council (PEC) has accredited our Electrical Engineering programme which is an acknowledgement of efforts of the university in setting up good standards of engineering education. This has further ensured the placement of GCU graduates with requisite skills in the job market. The quality imperatives at GCU emphasise on unfolding the potential of the students in developing a clear sense of direction by providing ample opportunities, a conducive environment, support and inspiration to excel.
PROF. DR. M. KHALEEQ-UR-RAHMAN
Vice Chancellor
TIMES SCHOOL OF ENGINEERING
Almost a century ago Aldous Huxley remarked that the rapid rate of change in the world was creating a situation of chronic revolution in society. The relevance of his observation has increased exponentially in our times.
The age-old quest for a concordance between education today and its projected goals in the future has always agitated the minds of educators of all times and climes. In fact, this is the make or mar criterion of any educational institution. At Times School of Engineering, our driving principle is to equip our young generation with the intellectual and physical skill sets they will require in times to come.
Consequently, we strive to provide state-of-the-art equipment in our labs and classrooms along with experienced and capable faculty whose hallmark is a holistic approach to education and training. Management, teaching staff, and ancillary personnel are constantly indoctrinated about the need to maintain cutting-edge efficiency in their respective areas of endeavor.
This diligence and devotion has won Times School of Engineering the honor of an affiliation with Government College University Lahore, an institution par excellence, far above the need of any introductory remarks. This is a distinction we pledge to maintain and uphold.
Accordingly, at Times School of Engineering, we see the changing world as a both a challenge and an opportunity which our students can meet with grace, dignity and ability.
Life around TIMES Campus