Academic Facilities
Main Campus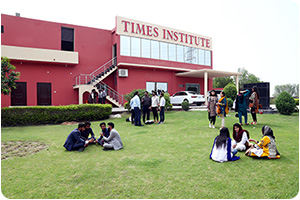 The Main Campus is known as ALI BIN USMAN HAJVERI CAMPUS. It is situated in the periphery of Multan on N-5 (Lahore-Multan National Highway-5) and spread over 27 Kanals with beautiful lawns and all basic facilities. The site is easily approachable and is well connected to all parts of the city through a network of metal roads. All kind of road transport is available round the clock. It takes hardly 20 minutes to reach the city centre.
The building has been adapted and customized to suit the needs of students. All rooms are suitably furnished and well equipped with modern teaching learning aids to provide a pleasant and comfortable learning environment.


City Campus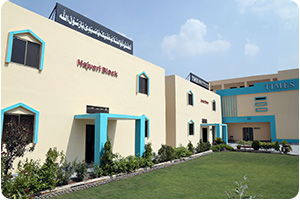 In the pursuit of an endeavor to facilitate the students, the TIMES has taken a great step by establishing its City Campus in the heart of Multan city, right on the main road near Chungi No. 9, Khanewal Road, the most prominent place in the academic hub of the City. The wide and capacious building with the state of the art architectural designs, spreads over an area of more than two Kanals and is situated at a very easily approachable location for the students to access via adjacent Metro Bus Station and other types of public transport facility day and night. The City Campus is privileged with the purpose built latest laboratories, library, AV equipped classroom, lawns, cafeteria and common room. The City Campus enjoys the status of being incomparable in regard of its central city location, the finest infrastructure, student oriented approach, conducive and serene environment and highly profiled teaching faculty.


The Faculty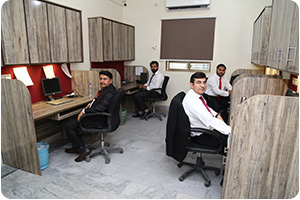 The TIMES firmly believes that a highly qualified and skilled faculty is the backbone of any seat of learning. The teaching faculty available at the TIMES is fully equipped with all tools of the trade. They are devoted, experienced, skilled and trained in the art of learning, teaching and research. They know how to convert raw minds of young pupils into thinking individuals who can apply their knowledge to analyze the problems and find their solutions in the best possible manners. The Institute is proud to have such a learned and dedicated team of academicians who are second to none in their respective fields.




Library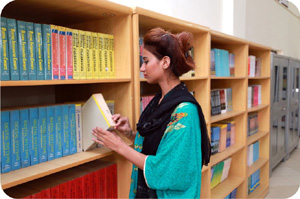 The Institute has a spacious library. The Library is fully furnished with cushioned chairs and reading tables so that students could sit for long hours to utilize their prime time for the purpose of studying. It contains thousands of books on different topics and is continuously growing with the regular addition of new books.
Every student is encouraged to benefit from the Library. The students can get the books issued on their student registration number through Library Module of Campus Management System for a period of fourteen days. A photocopier is also available if the students intend to copy any material for their study.
Computers with access of Digital Library from Higher Education Commission, Islamabad have also been provided for the convenience of students and faculty who intend to get benefit from it. The library staff is courteous, helpful, and always ready to help you in case you find any difficulty in using the library.
Computer Lab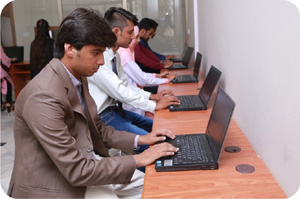 The institute is fully abreast with modern trends and requirements of a modern and dynamic institution. In line with its vision, it has provided computing and internet facilities to all of its students, teachers and secretarial staff. An air conditioned Computer Lab (35' x 25') having the latest computers equipped with all the required software is available to students and Teaching Faculty. The Institute has subscribed 3 MB dedicated fiber optic line from Multinet Pvt. Ltd. The Campus is linked with WAN and LAN and Wi-Fi is also available in certain areas.
Laboratories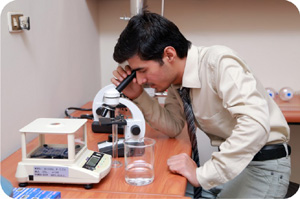 The state-of-the-art equipment and air conditioned laboratories of relevant subject provide a highly congenial environment for learning the practical skills of the subject through practical demonstration. Lab Instructors are also available to guide the students for on-hand training of using various components to gain practical experience and to overcome the shyness of laying hand on any equipment.
Auditorium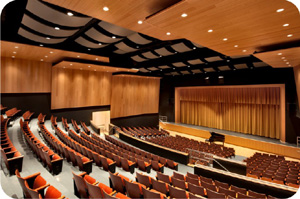 A large hall measuring 52' X 42' with a seating capacity of 400 persons/guests is available for holding lectures, conferences, seminars, and other functions. It can also be utilized as an examination centre to conduct semester tests and exams.
Campus Management System (CMS)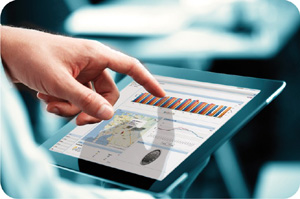 TIMES has introduced the latest web based portal for its Campus Management. The system is called Campus Management System (CMS). It is believed that it is the first of its kind in any Pakistani University / Institute. The system has been developed by SW3 Solutions, whereby each and every detail of students, faculty members and employees is available in a database which is centrally managed and operated. The system is a step forward for automation of the data and helps the management to organize all information related to a person in a systematic manner. Every student, faculty and employee has been given a computer readable card with a unique number. The card is used for attendance, library or identification of any individual when the identity of a person is required to be verified while he/she is at the Campus.
Cafeteria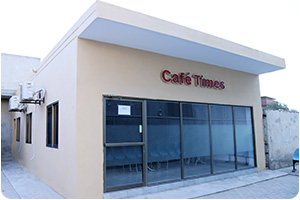 The students have been provided with a furnished cafeteria 32' x 20'. Here students can pass their free/ leisure time, share their ideas on given assignments and can freely discuss their mutual interests while taking some refreshments. Food of good quality is available at reasonable price. Refreshments like tea, coffee, juices, snacks and cold drinks etc. are available
Transport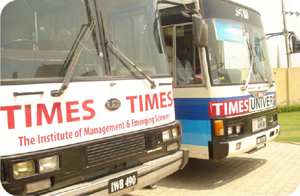 The Institute has arranged transport facilities for its students, faculty and staff. All the students are expected to take advantage of this facility. The shuttle service shall be available to Day Scholars and also to those who stay at hostels. The hostel students can also use this facility for their weekly shopping.
Sports Ground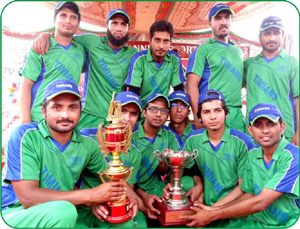 The Institute is highly conscious of co-curricular activities. It believes that healthy body has a healthy mind. To cater for this need, suitable play grounds exist at the Campus where students can play hockey, cricket, football, and basketball. Facilities for some indoor games like table tennis also exist.
Car Parking
All the students, faculty and staff who intend to use their own transport and possess a valid driving license are required to register their cars with the administration to get a parking sticker subject to the availability of parking space. Any car without a valid sticker shall not be allowed to enter in the Campus.
Financial Assistance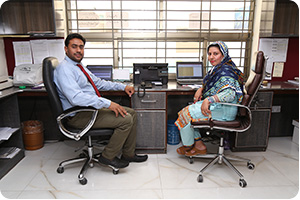 In addition to the usual merit (based on marks) scholarships, the deserving students are also provided with financial assistance sponsored by the Al-Seyal Educational Trust as per policy of the Institute. Certificates and prizes are also awarded to the students who obtain top positions in the examinations.
Study Tours
The knowledge base can be enhanced through experiments and observations. This is how the present state of knowledge has been achieved. It is a well known proverb that "seeing is believing". Moreover, things seen once never forget.
The study tours provide this opportunity. The students of TIMES are encouraged to arrange tours of different organizations. so that they experience how things work practically. They are also advised to arrange excursions tours to enjoy life after hard work. Through these tours students rejuvenate and refresh them and become ready for further studies.
Students Advisory Centre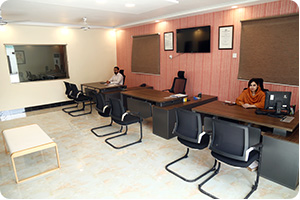 The center is established to provide guidance to the students for choosing suitable course and to plan their studies for an effective pursuit of their career at the end of their studies. The center has a special desk which helps students in finding internship and jobs for them. It also holds seminars to guide the students how to prepare CVs for a particular job and the techniques to steer through interviews for a successful accomplishment.